The Bibbulmun Track is one of the world's great long distance walk trails, stretching 1003km between Kalamunda in the hills on the outskirts of Perth, and the historic town of Albany on the south coast. It passes through many of the most beautiful parks of the Destination Perth and Australia's South West regions, taking walkers through towering forests, down mist-shrouded valleys, over giant granite boulders and along breathtaking coastal heathlands.
The track has a wide range of experiences, from a gentle stroll to enjoy the peace and beauty of the natural environment, to an epic eight week adventure. Make it a real wilderness experience by overnighting in any of the 49 campsites along the main route, or do it in comfort by staying in towns along the way. 
For anything longer than a short out-and-back day walk, you'll need to do some careful planning. It is not possible to walk the entire track as day walks or without staying in some of the campsites. Some sections have many days (up to four) between permitted access points and long distances between towns (the longest being 12 days). If the water is flowing through some of the inlets the track crosses the safe route around can involve a long detour.
If you're an independent walker, the Bibbulmun Track Foundation, offers a range of essential products and services include planning advice, skills training events, equipment hire, and map and guide book sales. The Foundation is a not-for-profit community organisation that coordinates the activities of the many hundreds of volunteers without whom the track just would not exist. If you share their love of the Bibbulmun Track, why not sign up as a member?
If don't have the time or inclination for all the planning, the experience and confidence to walk the track independently, or if you just want to enjoy it in the company of other like-minded people, consider joining a bushwalking club (go to the bushwalking page for more) or one of the wide range of tours offered by the many operators we licence to provide these services. 
Safety information
To keep yourself safe during this bushfire season:
Plan your visits for cooler periods of the year, avoiding the hot summer months.
Check the Fire Danger Rating and do not go on or remain on the trails if the forecast is extreme or catastrophic.
Do not plan extended multi-day trips beyond the Fire Danger Rating forecast during summer as due to limited mobile phone coverage it is not always possible to keep updated with changing conditions.
Avoid remote sections of the trail where there is limited vehicle access.
Abide by all trail closure signage, and any instructions from Parks and Wildlife and other emergency staff.
Trails and parks may be closed on days when the Fire Danger Rating is extreme or catastrophic. Check these websites when planning your walks:
Install the free Emergency+ app on your mobile phone and use it in any emergency to call for assistance. If there is no mobile phone coverage you will not be able to call 000 but the app will provide you with GPS location details. Keep your phone fully charged and with location services turned on.
Download 'Are you bushfire ready?'
It is recommended that you inform friends, family and/or police of your travel dates and the locations you plan to visit (your itinerary) during your travels into parks and reserves in Western Australia. Provide them with regular updates to ensure they know where you are. Agree on what they should do if you are overdue or do not return when you said you would. Use this form and provide sufficient detail so that they have the information needed to get help if required. 
Gallery
Image
Image
Image
Image
Image
Image
Image
Image
Image
Image
Image
Image
Image
Image
Image
Image
Image
Image
Image
Helena National Park
Bronwyn Wells
Image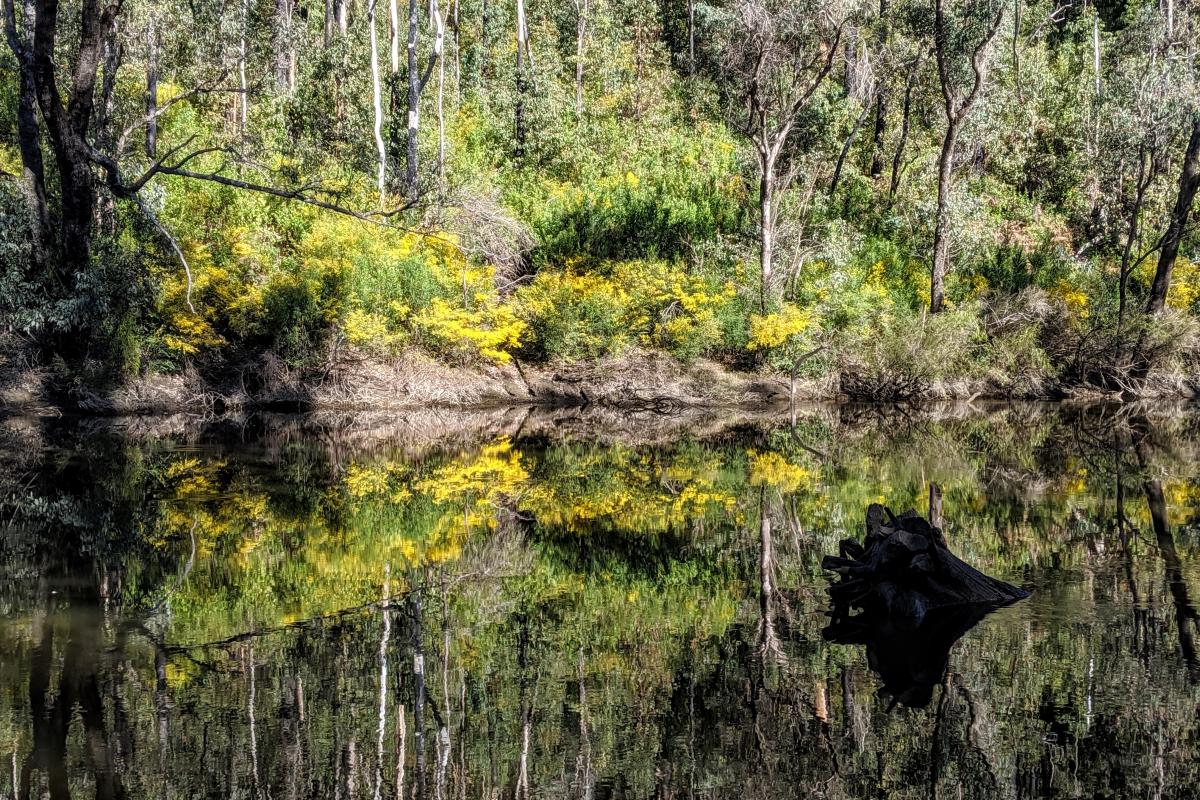 Lane Poole Reserve
Bronwyn Wells
Image
West Cape Howe National Park
Bronwyn Wells
Image
Preston National Park
Bronwyn Wells
Groups on track
Bibbulmun Track campsites cannot be reserved but early notification of a groups' intentions to use campsites enables us to inform other walkers and cyclists when these facilities will be occupied by those groups.
Visit the Bibbulmun Track Foundation. 
To find out which campsites are busy, check the Section by Section guide of the area and click on the Groups on Track tab.
Proposed prescribed burns
The Parks and Wildlife Service conducts a year-round program of prescribed burning. These burns are undertaken primarily for property protection, fuel reduction and biodiversity management. To view all proposed prescribed burns check the department's indicative burn plan.
These burns are carefully planned however they may cause some disruptions to walkers and riders. Where prescribed burns impact on the trail, closures and diversions are implemented to ensure the safety of walkers and riders, including temporary camp sites where necessary. These will remain in place until the original trail alignment has been declared safe. For diversions and smoke warnings check Park Alerts.
For your safety follow all signs, diversions and instructions from Parks and Wildlife staff and other emergency personnel.
Prescribed burns are dependent on appropriate weather conditions and, as such, burning dates are not available in advance.
Downloadable route files
Download the digital coordinate data for the routes of the State's three iconic long distance trails, Bibbulmun Track, Cape to Cape Track and Munda Biddi Trail.
Digital coordinates are used to describe waypoints, tracks and routes for software applications on computers and GPS receivers, including some mobile phones. Digital coordinates can be used to visualise a route for planning purposes and for navigation.
The digital routes are available below in two formats to make them accessible for a wide group of users.
The GPX, also known as GPS Exchange Format, is a common GPS format for storing and using coordinate data in a way that is easy to use, process and convert to other forms. GPX files can be used by GPS receivers and some mapping programs. Keyhole Markup Language (KML) was developed for use with internet-based Google Earth and Google Maps for expressing geographic visualization within two or three dimensional maps. Many mobile phones are fitted with a GPS receiver, which can utilise KML files via its apps.
This downloadable route data is for visual representation during trip planning and is not intended as a navigation tool. Remember to carry hard-copy maps and a compass with you at all times (and know how to use them). Do not rely on any electronic equipment – batteries might expire, the device might fail or break, and can be unreliable under trees.
This alignment data does not include diversions. Follow all on-ground diversion signage – these are in place for your safety. Downloadable GPX and KML files of the trail alignments can be accessed from the Western Australian Government Open Data website.
The route data will be updated as changes are made to the alignment. Check back regularly to ensure that you have the most current version. If you find errors please let us know by calling (08) 9219 8265 or emailing recreationandtrails@dbca.wa.gov.au.
Disclaimer: By downloading this GPX or KML file you agree its use, and reliance upon, is entirely at your own risk. These files are for non-commercial, personal use only. The Department of Biodiversity, Conservation and Attractions' Parks and Wildlife Service endeavoured to ensure the accuracy and currency of the data, but accepts no responsibility in this regard, or the results of any actions taken, when using the digital route files.
FAQ's
Weather - Plan your visits for cooler periods of the year, avoiding the extreme summer temperatures which can rapidly result in dehydration and heat exhaustion. Stay off the trails during severe weather to avoid risks from falling branches and flooding. Expect logs and flooding across the trails for some time afterwards.
Campfires are not permitted at Cape to Cape Track and Munda Biddi Trail campsites. For the Bibbulmun Track, campfires are generally permitted at most campsites north of Pingerup Road (map 6). They are never permitted south of Pingerup Road and at Yourdamung (map 3) and Blackwood (map 4) campsites as these are in higher fire risk areas. During the summer months all campfires are prohibited, generally between December and April. Use fuel stoves for cooking. Total campfire bans are now in place along the Munda Biddi Trail and Bibbulmun Track. For more information visit Park Alerts.
Prescribed Burns in the southwest these are primarily undertaken during spring and autumn. These burns are undertaken for property protection, fuel reduction and biodiversity management. They are carefully planned however they may cause some disruption to visitors. Where prescribed burns impact on trails, closures and diversions  are implemented to ensure the safety of walkers and riders, including temporary campsites where necessary. Prescribed burns are dependent on appropriate weather conditions and, as such, specific dates are not available in advance.
Maps for our long distance trails can be purchased from the online shop; visitor centres; outdoor equipment, book and bike stores and our community trail partners.
Water - Water tanks are provided at campsites but these are rain-fed and therefore it is not possible to guarantee the amount or quality of the water available. It is essential that visitors keep an emergency supply of drinking water as back-up and use available water sparingly. All water should be treated before drinking by boiling for at least one minute, mechanical filtration or chemical treatment. 
Vehicle Access – Vehicles are not permitted on the Bibbulmun Track, Cape to Cape Track and Munda Biddi Trail. Recommended vehicle access points with parking are marked on the maps with red car symbols.
Transport – Public buses service some of the towns along the Track. Check Transwa for details. There are regular flights between Perth and Albany. Some tourism providers offer transport services details of which can be found on the Bibbulmun Track Foundation's website.
Groups - Any non-commercial groups with eight or more members, that are staying overnight at Bibbulmun Track, Munda Biddi Trail or Cape to Cape Track campsites please read information at Group Notifications. Commercial groups should click here. For information on the track conditions click here. 
Consider universal planning and safety information and apply the Leave No Trace principles.
Trail Conditions and diversions
Occasionally, temporary trail closures are necessary due to maintenance, prescribed burns, bushfires or severe weather. If part of the trail is closed, a diversion may be marked and signage placed at either end. Check the current conditions in the area you are walking or cycling.
Information is updated during business hours. More up-to-date information is available from the Parks and Wildlife office closest to the area you are planning to visit.
Activities

Bushwalking
Traditional Owners
We recognise and acknowledge Aboriginal people as the traditional owners of Bibbulmun Track.