About this place
The design of the Karijini Visitor Centre building represents a goanna moving through the country and is symbolic to local Banjima Aboriginal people. The tail represents their history, the head is the future direction of the traditional owners, and Aboriginal Law is in the centre or stomach. The high, weathered steel walls of the visitor centre mimic the sheet-sided gorges that are a feature of the park.

The building is designed to withstand the fires that are a regular feature of the area. The construction materials, lack of openings and minimal places to trap debris, all help reduce the threat of fire entering or damaging the building.
Inside, a range of displays take you on a journey of places and people, past and present, through stories of geology, plants, animals and Aboriginal people and their culture.
The centre provides employment opportunities for local Aboriginal people and gives visitors a chance to speak with them and learn about their association with the land.
The centre contains a display area, theatre and shop, where you can purchase cold drinks, ice cream and souvenirs.
Safety information
Plan when to visit. Consider travelling with a personal location beacon (PLB). In the event you need to be rescued it could save your life!
Blue asbestos is present in Yampire and Wittenoom Gorges. Asbestos dust may cause cancer if inhaled. 
Stay back from cliff edges – they are about 100m high, often with loose rocks near the edge. 
Flash floods can occur – do not enter gorges if there is rain in the area. If it starts raining when you are in a gorge, leave immediately. 
The water in gorge pools can be extremely cold, especially between April and September; hypothermia can occur. Do not dive or jump into water. 
During summer, temperatures frequently top 40°C. Drink plenty of water at all times. 
Dingoes are common around Dales Campground. They may scavenge for food and can be aggressive. Do not feed dingoes, supervise children at all times, walk in groups and store food in your vehicle. Read more in the Be Dingo Aware fact sheet.
Gallery
Image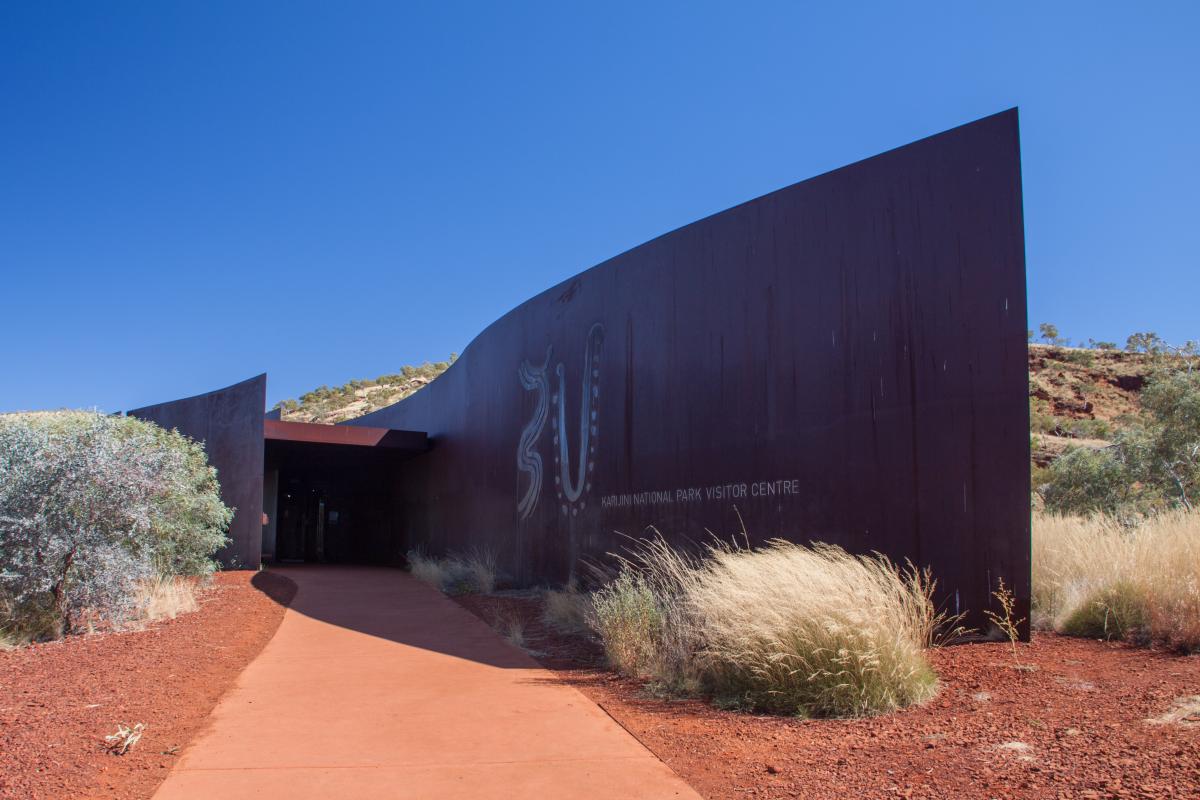 Karijini Visitor Centre
La Shibish
Facilities
Visitor centre
Toilet
Shade shelter
Plants, wildlife and fungi
Visit the Atlas of Living Australia for a list of species recorded within a 5km radius of Karijini Visitor Centre.
Traditional Owners
The park is the traditional home of the Banyjima, Kurrama and Innawonga Aboriginal people. The Banyjima name for the Hamersley Range is Karijini. Aboriginal land management practices, such as 'fire stick farming', resulted in a diversity of vegetation types and stages of succession that helped determine the nature of the plants and animals found in the park today.
We recognise and acknowledge Banjima, Innawongka and Eastern Guruma people as the traditional owners of Karijini National Park.