About this park
Take a journey back in time to discover Western Australia's second largest national park. Erosion has slowly carved this stunning red landscape out of rock that is over 2.5 billion years old. 
Before you start to explore this ancient part of the planet, stop in at the Karijini Visitor Centre where locals can advise you of the best places to see and things to do.  
Wander down into ancient deep gorges of layered red rock and swim through crystal-clear waters. We are sure you'll 'waterfall' in love with the freshwater falls and secluded swimming holes surrounded by lush green ferns.   
To get the most out of your experience we recommend staying a couple of nights. Set up camp and as the sun goes down, get lost in a sky full of stars. If you prefer a comfier stay, go glamping at the Karijini Eco Retreat. They also offer guided adventure tours.    After the rains, see the landscape covered in yellow flowering cassias and wattles, northern bluebells and purple mulla-mullas.  
Look for the large termite mounds scattered throughout the grasslands as well as a variety of birds, rock wallabies, echidnas, red kangaroos, goannas, dragons and snakes. 
Review - The best National Park I've been to. 
An amazing national park with fantastic gorge hikes of varying levels. Especially loved the level 5 ones. The clear water in the natural pools is perfect for a nice swim after hiking. The landscape of this park is out of this world. I'd return there again and again. Trip Advisor - Steph Kloeckener 
Safety information
Plan when to visit. Read this safety information about  bushwalking and swimming . Consider traveling with a personal location beacon (PLB). In the event you need to be rescued it could save your life! 
Blue asbestos is present in Yampire and Wittenoom Gorges. Asbestos dust may cause cancer if inhaled. 
Stay back from cliff edges – they are about 100m high, often with loose rocks near the edge. 
Flash floods can occur – do not enter gorges if there is rain in the area. If it starts raining when you are in a gorge, leave immediately. 
The water in gorge pools can be extremely cold, especially between April and September; hypothermia can occur. Do not dive or jump into water. 
During summer, temperatures frequently top 40°C. Drink plenty of water at all times. 
Dingoes are common around the Dales Campground. They may scavenge for food and can be aggressive. Do not feed dingoes, supervise children at all times, walk in groups and store food in your vehicle.   
Gallery
Image
Karijini National Park
Paul Letts
Image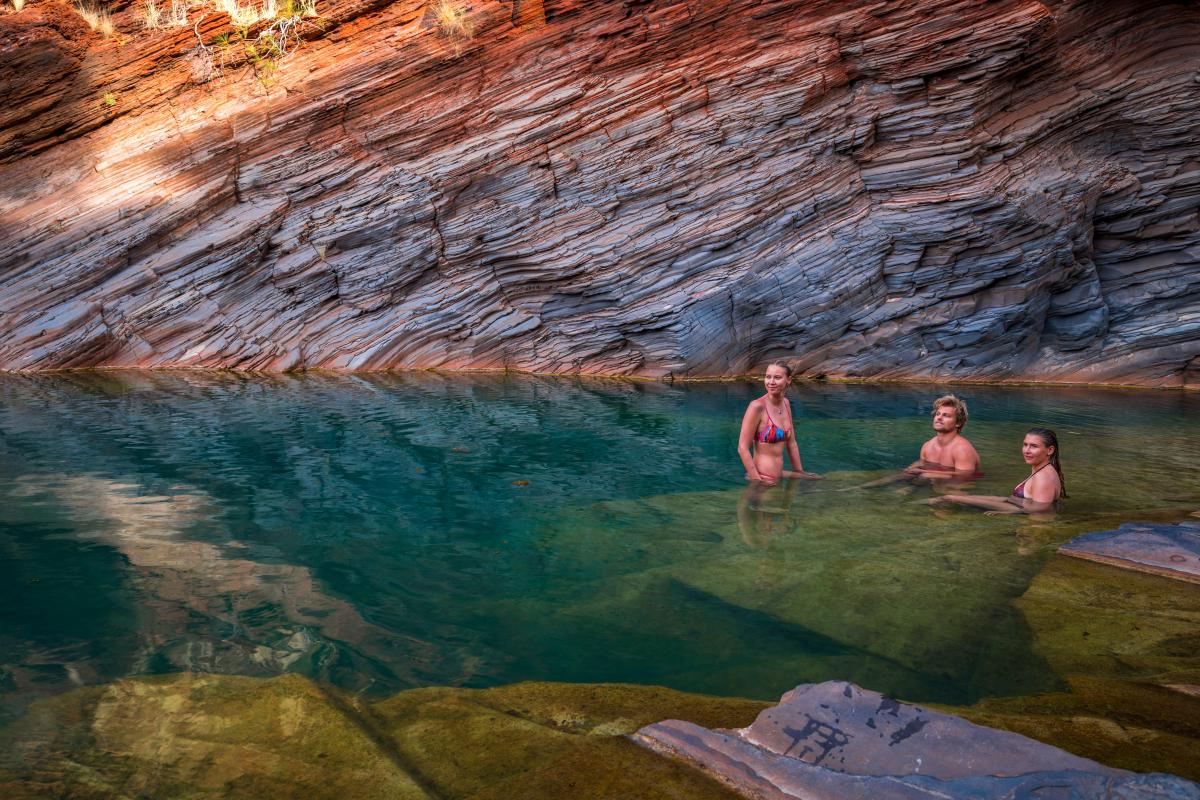 Karijini National Park
Tourism WA
Image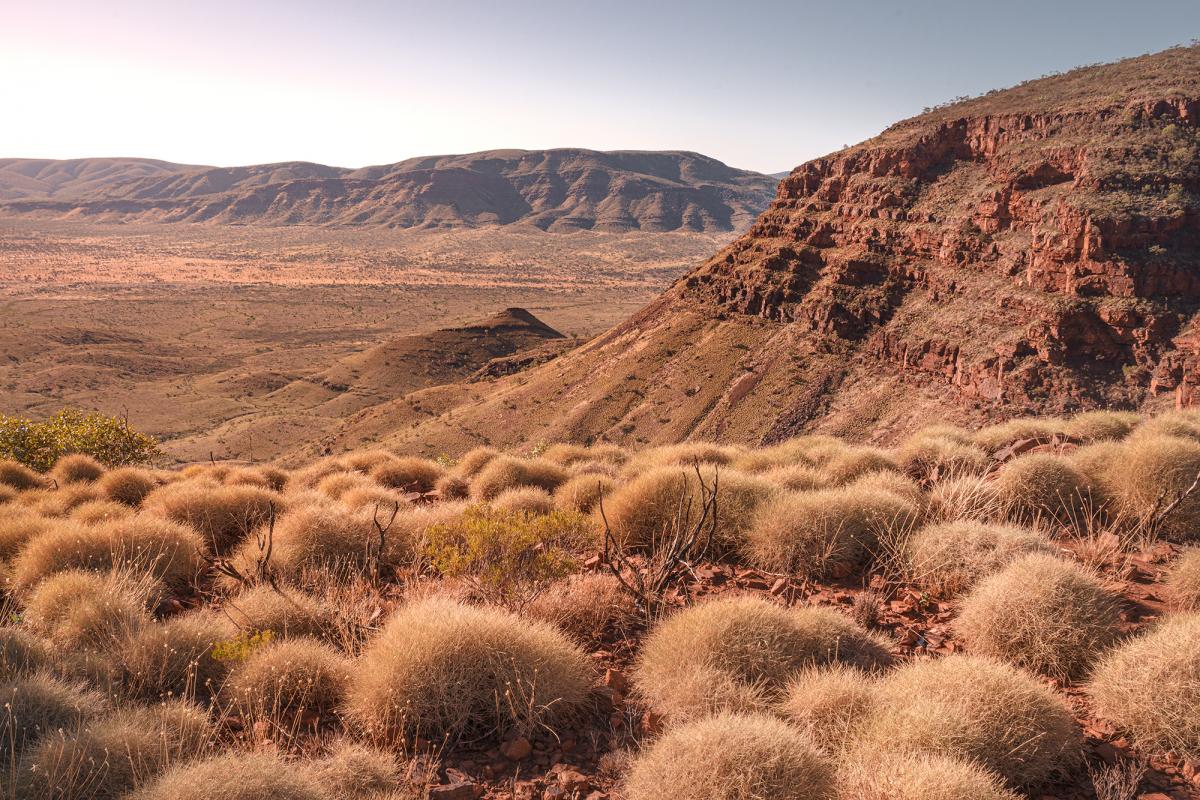 Karijini National Park
Paul Letts
Image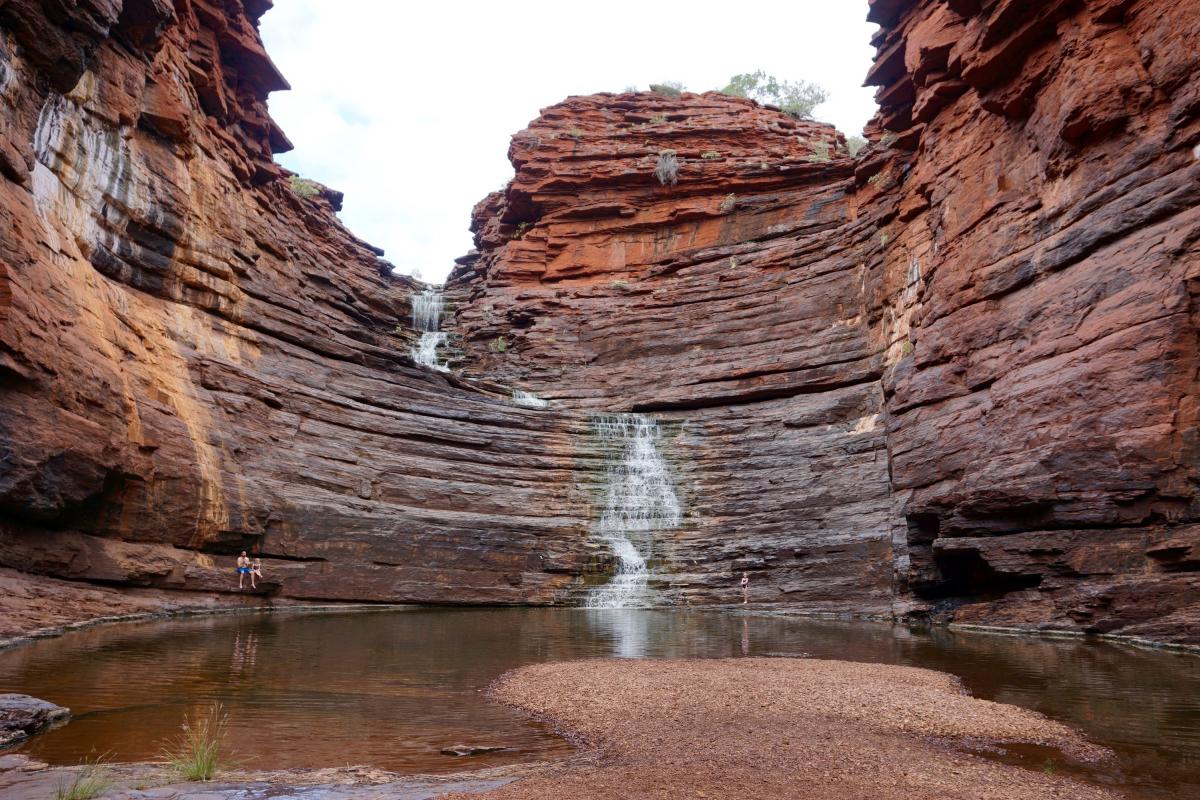 Karijini National Park
Amanda Smith
Image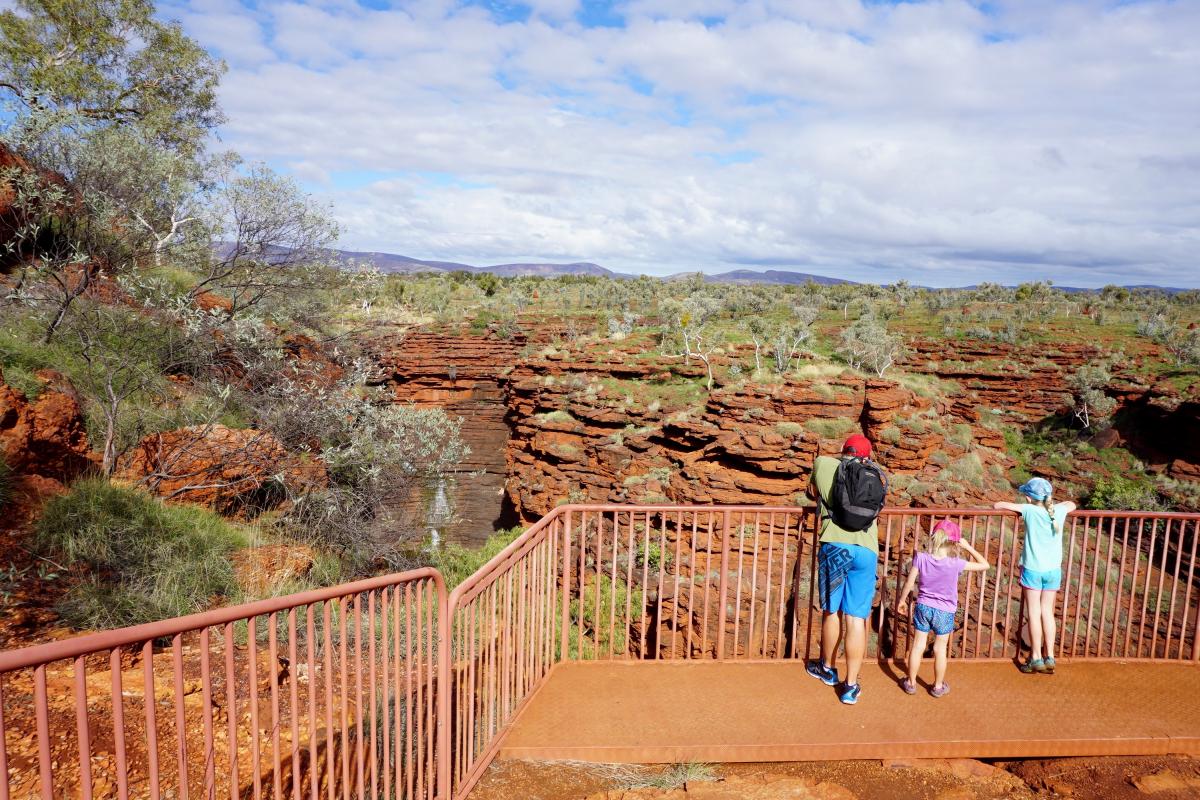 Karijini National Park
Amanda Smith
Image
Karijini National Park
Tourism WA
Smartreka maps
Before you go, download free, geo-referenced maps of Karijini National Park to your mobile device and locate yourself in the park without the internet. Download the Avenza Maps app from the App Store or Google Play.
Every Kid in a Park
Connecting WA kids with WA's greatest assets - the amazing outdoors!
Every Kid in a Park supports families of children of all abilities in accessing and enjoying the outdoors (local parks, nature reserves, beaches, and national parks) around Western Australia. 
Discover family resources for exploring Karijini National Park at Nature Play WA. 
Activities

Bushwalking

Camping

Swimming
Traditional Owners
The park is the traditional home of the Banyjima, Kurrama and Innawonga Aboriginal people. The Banyjima name for the Hamersley Range is Karijini. Aboriginal land management practices, such as 'fire stick farming', resulted in a diversity of vegetation types and stages of succession that helped determine the nature of the plants and animals found in the park today.
We recognise and acknowledge Banjima, Innawongka and Eastern Guruma people as the traditional owners of Karijini National Park.