About this place
Piccaninny has several different trails to choose from, from a short 700m return walk to a minimum 20km return overnight hike along Piccaninny Creek into the gorge system. Piccaninny parking area is 27km from the visitor centre.
The Domes
Distance 700m return
Class 3
Time allow 30 minutes
This short, uneven loop takes you up close among the beehive domes, where you can clearly see the different layers of the sediment and the protective banding of the orange iron oxide and grey cyanobacteria. 
Cathedral Gorge
Distance 2km return
Class 4
Time allow over an hour
A spectacular walk amongst the towering beehive domes that leads to the iconic natural amphitheatre and permanent pool. 
The Window 
Distance 6 km return walk
Class 4
Time allow 2 hours
Walk further along the Piccaninny Creek bed amongst the beehive domes and large potholes, to a natural window in a sandstone structure. Please do not climb the Window.
Whip Snake Gorge
Distance 10km return walk
Class 4
Time allow 4 hours 
Continue pass the Window along the Piccaninny Creek bed, where the trail veers to the left taking you into one of the many gorges within the range. This small natural amphitheatre contains rock figs, gums, ferns, and mosses.
Piccaninny Gorge Trek
Distance 20km return trek
Class 5
Time allow 2 day minimum
This walk is only for experienced hikers who have first registered at the visitor centre and have a personal locator beacon (PLB).
Journey into the heart of the Bungle Bungle Range and experience up close the impressive deeply cut gorges, and formations of Piccaninny Creek. This overnight trek is along an uneven, stony, and sandy creek bed with large potholes, boulders and occasionally through pools of water.
It is approximately 8km to the Elbow of Piccaninny Gorge and another 4km into the first of the five fingers (side gorges). The fingers terrain changes considerably as you head further up each gorge. Great care must be taken when exploring.
There is no permanent water, however during the wet season and early in the dry, waterholes may be present. Black Rock Pool is the most reliable source of water. Water must be treated before drinking. To preserve the water quality and the natural eco-system, do NOT swim at Black Rock.
Hikers must de-register at the Visitor Centre after completion of the walk.
Drones are not permitted.
Safety information
Plan when to visit. Be prepared and read this safety information about bushwalking. Consider travelling with a personal location beacon (PLB). In the event you need to be rescued it could save your life!
There is INTERMITTANT OPTUS coverage only in Purnululu National Park.
Most of the trails in Purnululu National Park are exposed to the sun with little shade. Extreme heat can be experienced. Daily temperatures can exceed 40°C and radiant heat from the sounding rocks can increases the daily temperatures to 50°C or more. 
Take a first aid kit, Personal Locator Beacon (PLB), map and GPS.
Wear supportive footwear, adequate clothing, a hat and sunscreen and take warm clothing and sleeping gear - temperatures can go below freezing at night.
Flash flooding may occur in the gorge between December and April
Fuel stove for cooking as campfires are not permitted.
Walk in the cooler parts of the day, early morning, or late afternoon
Sip plenty of water - minimum one litre per person, per hour of walking
Protect yourself from the sun; wear long-sleeved, loose clothing, a hat and sunscreen
Treat heat stress by:
Sip cool water.
Rest in the shade.
Remove shoes and socks.
Dampen clothing or a cloth and hold against skin.
Seek medical attention if needed.
Gallery
Image
Piccaninny Creek Area
Tamara Beers
Image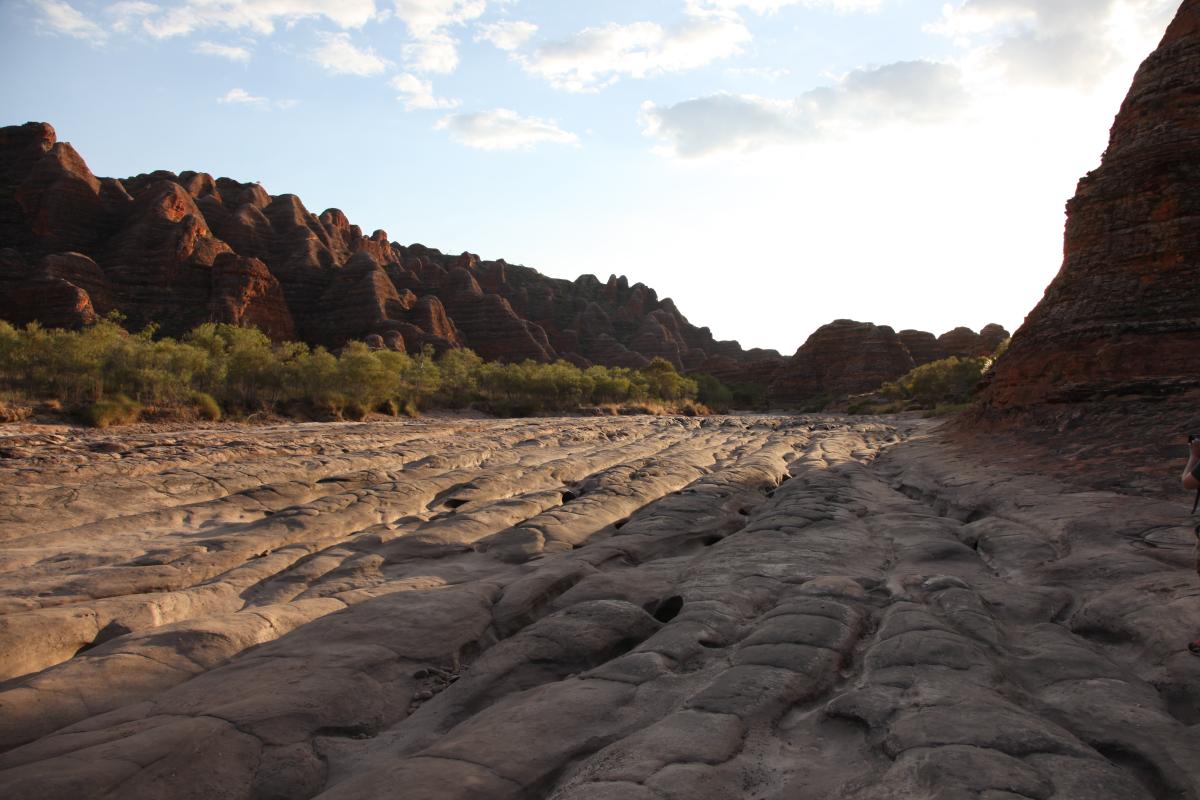 Piccaninny Creek Area
Tamara Beers
Image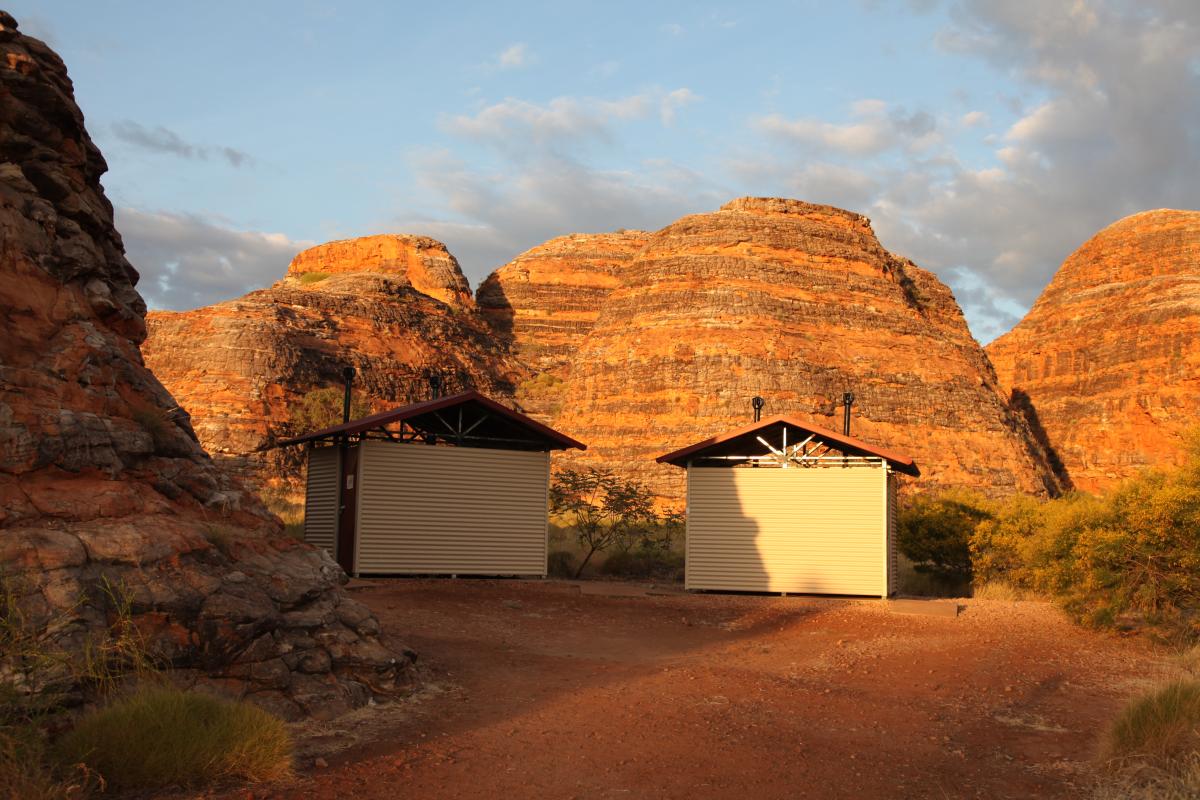 Piccaninny Creek Area
Tamara Beers
Image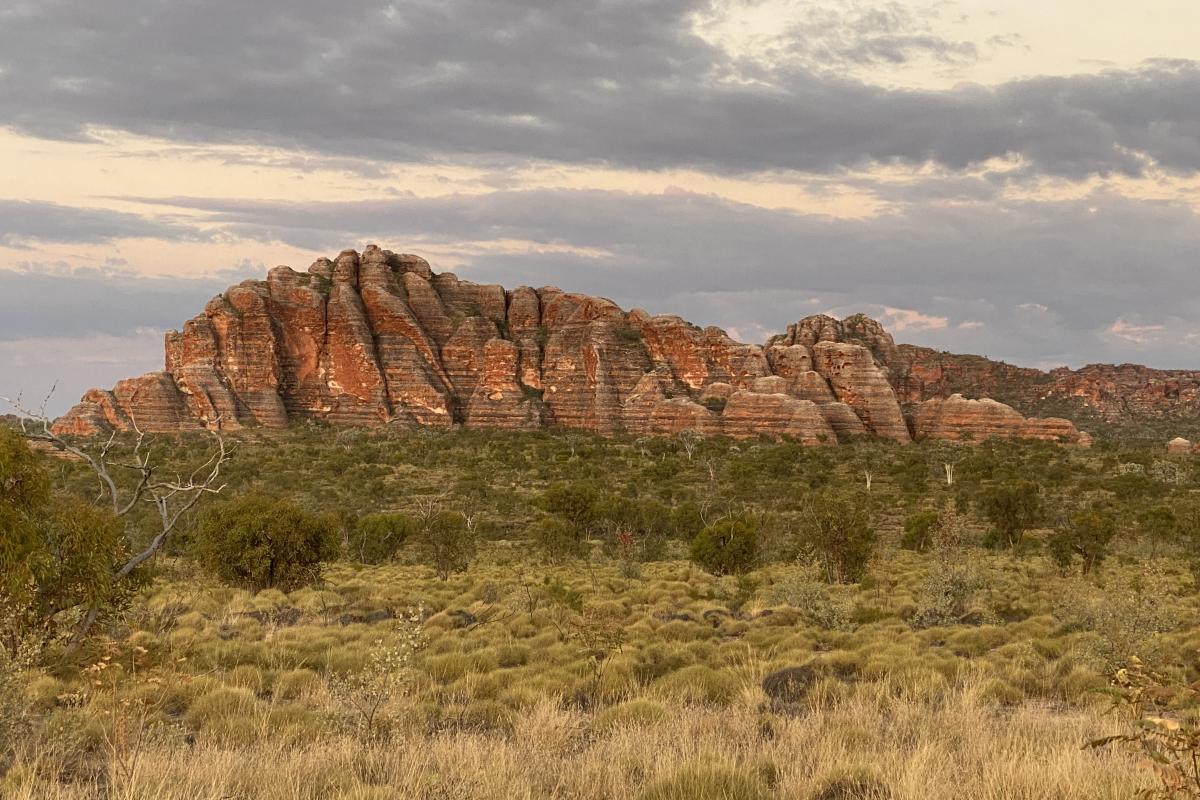 Purnululu National Park
DBCA
Facilities
Toilet
Shade shelter
Picnic table
Activities

Bushwalking
Plants, wildlife and fungi
Visit the Atlas of Living Australia for a list of species recorded within a 5km radius of Piccaninny Creek Area.
Traditional Owners
We recognise and acknowledge Jaru and Gija people as the traditional owners of Purnululu National Park.