About this park
Calling all mermaids and mermen. Explore underwater in the ledges, caves and swim - throughs that attract lots of fish and marine creatures. Migrating whales even swim past too. It's all happening out there!
On the water, boating, swimming, whale watching, kite, and windsurfing are popular activities. But the main attraction is happening, submerged beneath the waves. How will you explore?
There is good diving all year round, depending on daily weather conditions. Check out the Boyinaboat Reef. This dive site is just 75m from the sea wall at Hillarys Boat Harbour. How convenient is that! You need a boat and scuba gear to explore other reefs in the park including Cow Rocks, Wanneroo Reef, Whitfords Rock, Wreck Rock and the Wreck of the Centaur.
If snorkelling's more your thing, Mettam's Pool offers safe snorkelling close to the shore. You literally walk in off the beach! Explore the Marmion Angling and Aquatic Club (MAAC) Dive and Snorkel Trail nearby too.
You can fish in most areas in the marine park but check the latest size, season and bag limits at Fisheries. Information on marine park zones is available at boat ramps and on the Marine Parks WA app. Download the app from Google Play Store or the App Store.
Private dive and fishing charters operate for most of the year and diving instruction is available. Whale watching private charters leave from Hillarys at the peak of the humpback migration September to November.  
Take the plunge and check out Marmion Marine Park. It's well worth a visit, or two or three!
Review - Long history 
The area is named after the suburb of Marmion which was the name of an early pioneer who ran a whaling station here in the late 1800s. The marine park extends 5km out to sea and has preserved the fish and wildlife within this protected zone. A great place to visit and observe the wildlife. Chizzel - Trip Advisor 
Safety information
Plan when to visit. Read this safety information about  swimming, fishing, paddling, kayaking, snorkelling and diving. Consider travelling with a personal location beacon (PLB). In the event you need to be rescued it could save your life! 
Scuba diving and snorkelling have claimed lives and divers should never become complacent about safe diving practices. 
Swimming into caverns and under ledges can be hazardous. 
Check daily weather conditions before entering the water. 
Take care to avoid boat traffic and be sure to tow a dive flag. 
Gallery
Image
Marmion Marine Park
Amanda Smith
Image
Marmion Marine Park
Kevin Smith
Image
Marmion Marine Park
Kevin Smith
Image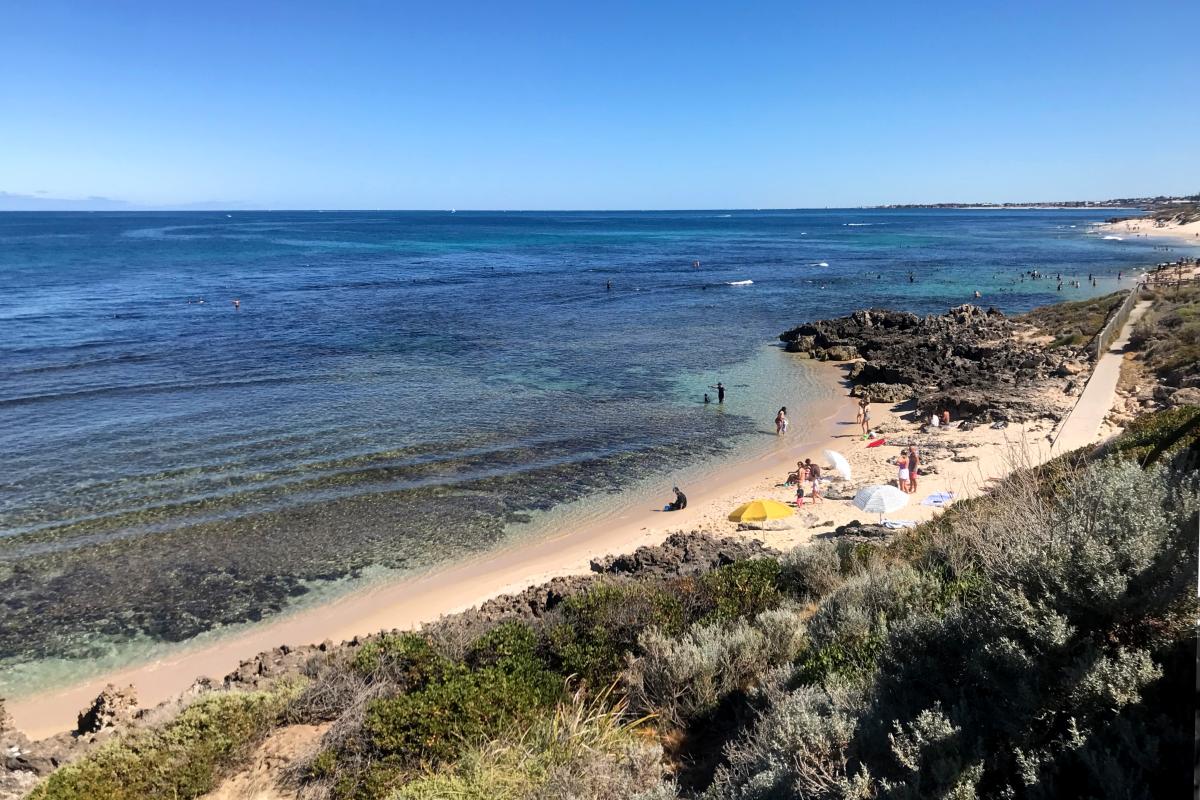 Marmion Marine Park
Radha Deepchand
Image
Have your say on the review and proposed expansion of Marmion Marine Park
The State Government is currently working on a proposal to extend the marine park. Find out how you can have your say on the Parks and Wildlife Service website. 
Activities

Canoeing and kayaking

Fishing

Scuba diving

Snorkelling

Surfing

Swimming
Traditional Owners
We recognise and acknowledge Whadjuk people as the traditional owners of Marmion Marine Park.