About this park
Take a day trip from Karratha or stay awhile and explore the expansive views over red plains of spinifex grass and termite mounds. 
There are natural spring-fed pools to swim in such as Deep Reach and Python Pool.  
The Yinjibarndi people ask that you swim safely at Deep Reach as this is the home of Barrimurdi, the Warlu, or serpent. You can launch canoes, kayaks or stand-up paddle boards there too but remember to treat the place with respect and keep noise to a minimum.    Visit the Millstream Homestead and learn the how pastoralists lived and how the Homestead was once a tavern!  Follow the walk trails to learn a little more about the ingenious use of plants for food and medicine by local Aboriginal people. 
Once you're here you'll want to stay awhile and explore and there are a couple of campgrounds to choose from but be sure to book ahead to secure your spot.  
Between June and August the red plains erupt into colour as the wildflowers bloom. You will find Sturt Desert Pea, more than twenty species of Mulla Mulla (Ptilotus), fragrant Sennas/Cassia and dozens of species of Wattles in bloom, Northern Bluebells, Desert Yam and several species of Hibiscus. 
The permanent source of water brings all kinds of birds such as rainbow bee-eater, sacred kingfisher and blue-winged kookaburra, spinifex pigeons and the impressive bustard. Twelve species of raptor live in the park and can be seen flying high over the plains.  
You might be lucky and spot euros (hills kangaroos) and the endangered northern quoll as well as ghost bats and marsupial "mice". Pilbara dragons are often seen darting up trees and several species of goanna are regularly seen, as well as Stimson's and olive pythons. 
Take a drive on the Snappy Gum Drive which is a 20km loop and stop at lookouts along the way. There's nothing better than discovering somewhere new on a walk trail and this park has plenty of them from a 20 minute short walk to a much longer 3 hour walk.  
Safety information
Plan when to visit. For your safety we have provided safety information about  bushwalking, swimming,  fishing, canoeing and kayaking. Consider travelling with a personal location beacon (PLB). In the event you need to be rescued it could save your life! 
When walking in the park wear a hat, broad spectrum sun screen and sturdy walking shoes.
Temperatures can be extreme, exceeding 50°C from November to April.
It is recommended you walk in the cooler months or first thing in the morning. 
Carry and drink 1 litre of water per hour of walking per person.
Avoid dehydration by drinking small amounts regularly. 
For your own safety, please remain on existing trails.
Gallery
Image
Millstream Chichester National Park
Tourism WA
Image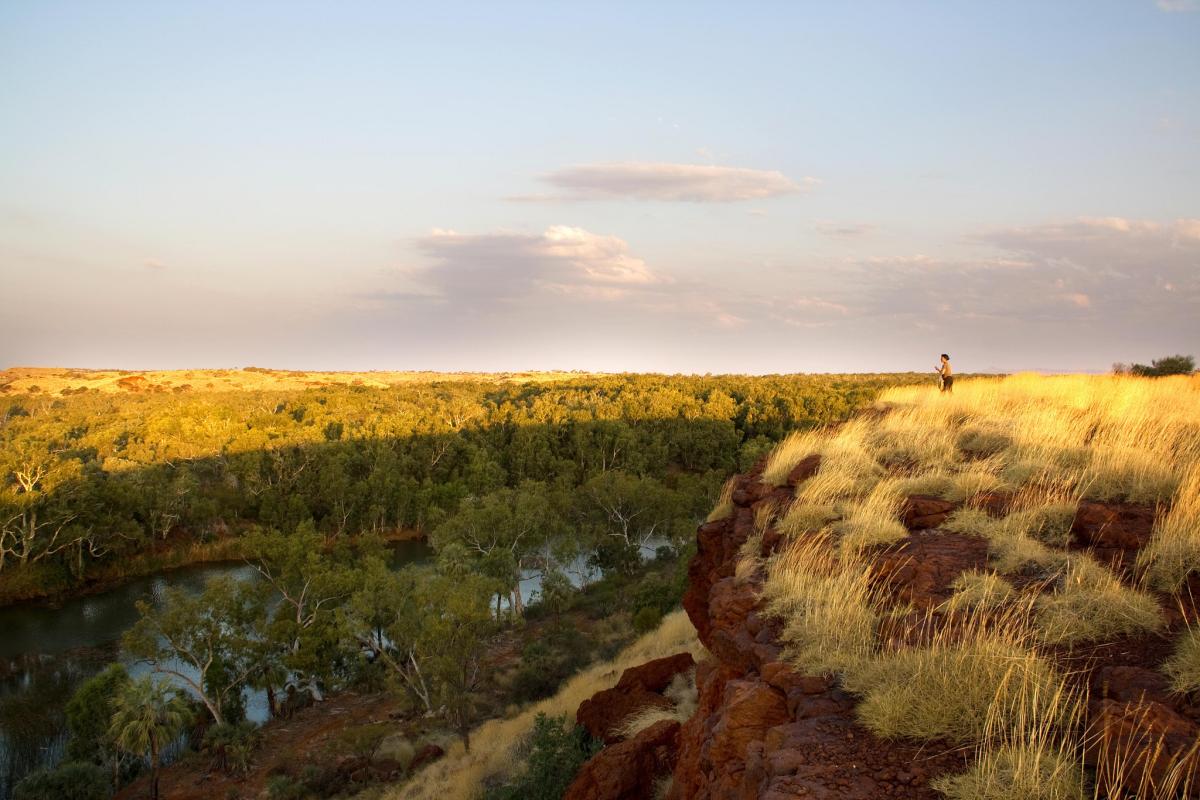 Millstream Chichester National Park
Barrie Russell
Image
Millstream Chichester National Park
Tourism WA
Image
Millstream Chichester National Park
Barrie Russell
Smartreka maps
Before you go, download free, geo-referenced maps of Millstream Chichester National Park to your mobile device and locate yourself without the internet. Download the Avenza Maps app from the App Store or Google Play.
Activities

Bushwalking

Camping

Canoeing and kayaking

Fishing

Swimming
Plants, wildlife and fungi
Visit the Atlas of Living Australia for a list of species recorded in Millstream Chichester National Park.
Traditional Owners
We recognise and acknowledge Ngarluma and Yindjibarndi people as the traditional owners of Millstream Chichester National Park.