About this park
Plunge into the clear, warm waters for an amazing snorkel experience just metres from shore, venture to some deeper water to swim with whale sharks, or just relax on the beach and pick up that book you've been meaning to read.
Ningaloo Marine Park is World Heritage-listed and one of the largest fringing reefs home to hundreds of fish and coral species, making snorkelling as easy as a short paddle from shore. 
There's more than just fish to see, organise a guided experience with whale sharks, humpback whales, manta rays, turtles, dolphins or dugongs! If you'd rather stay dry, get a glimpse of the reef via a glass bottom boat tour. 
The best time to catch the whale sharks on their migration is between March and August and the humpbacks are hanging out from June to November. If you're around during the warmer months of February and March you can watch turtle hatchlings make their first dash to the sea and join an eco-education tour at Jurabi Turtle Centre. 
Cast a line from the beach, your own boat or a charter tour. The reef is home to a heap of sport and game fish, just make sure to follow the rules and avoid sanctuary areas. Catch a wave in Exmouth with surf lessons and boards for hire, or for some more serious surf head towards Carnarvon to Gnarloo, Red Bluff and Quobba Stations. 
Review - Unbelievably Beautiful Place 
Crystal clear water, where you can see the fish & marine life swimming by. Awesome place to snorkel. Unbelievable coral, powder white sand, photos don't do this place justice, it is truly a beautiful place." - limeclaw  -Trip Advisor
Safety information
Plan when to visit. Read this safety information about swimming, surfing, fishing, paddling, kayaking, snorkelling and diving. Consider travelling with a personal location beacon (PLB). In the event you need to be rescued it could save your life! 
When entering from the mainland, always be aware of your surroundings and pay attention to visitor risk warning signs. Hazard warning signs are placed on the shore  for your protection and safety. 
Gallery
Image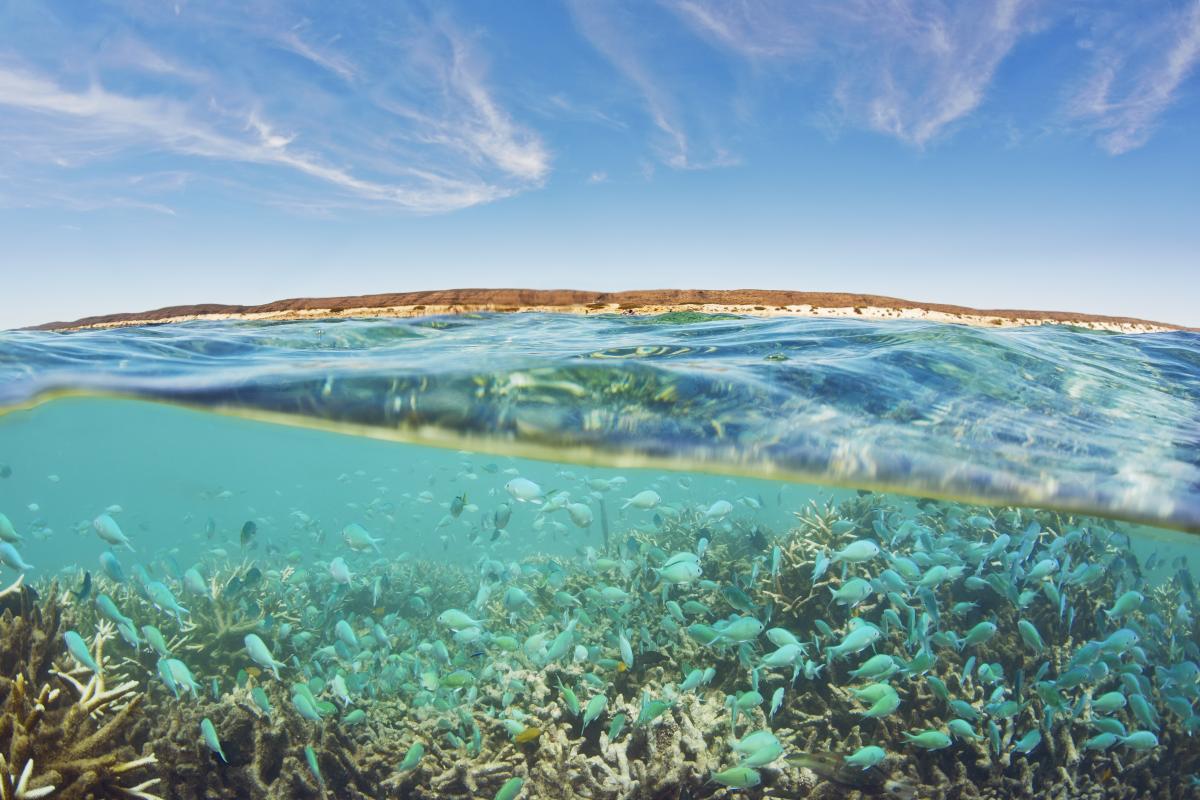 Oyster Stacks
Sunday Sunset
Image
Ningaloo Marine Park
Aimee Jan
Image
Ningaloo Marine Park
Tourism WA
Commonwealth waters 
The Commonwealth Ningaloo Marine Park borders the western edge of the State Ningaloo Marine Park. It incorporates a diversity of habitats including the continental slope and shelf, as well as pelagic habitats in the open ocean. 
The deeper waters are dominated by sponge gardens with soft corals and algae. The open ocean supports large numbers of fish such as trevally, tuna, mackerel, marlin and sailfish.  
Humpback whales pass through twice a year on their annual migration. Blue, sperm, minke, Bryde's, southern right and killer whales have all been observed in the Commonwealth waters, while whale sharks and dolphins are frequent visitors. 
Activities

Boating

Canoeing and kayaking

Fishing

Scuba diving

Snorkelling

Surfing

Swimming
Traditional Owners
We recognise and acknowledge Baiyungu, Thalanyji and Yinigurdira people as the traditional owners of Cape Range National Park and adjoining Ningaloo Marine Park. We are proud to be in joint management with the traditional owners to look after these special areas for future generations to enjoy.